Tandem skydiving is a unique and exciting experience, perfect for those looking for an adrenaline and unforgettable experience. Tuscany, with its breathtaking views, is one of the best destinations to . In this article, we will discover everything you need to know about the tandem skydiving in Tuscany and we will indicate 3 fascinating Tuscan places (and a special guest) from which you can launch yourself with an expert instructor.
What is tandem skydiving?
Before starting our virtual journey, let's briefly explain what tandem skydiving is. In this mode, the beginner (or passenger) is connected via a harness to an experienced instructor. The instructor manages the entire jump, from the free fall phase to the parachute opening, up to the landing. This allows the passenger to enjoy the experience without having to worry about the technical aspects of the launch.
Why choose Tuscany for your tandem launch?
Tuscany is one of the most beautiful regions of Italy (), famous all over the world for its. From its gentle hills, to the cities of art rich in history and culture, to the coasts overlooking the Tyrrhenian Sea, every corner of this region offers breathtaking views. Imagine admiring all this from an altitude of over 4000 meters: a truly unforgettable experience!
Education and safety
Before each launch, instructors provide a comprehensive briefing to prepare passengers for the experience. The details of the launch are explained, the positions to be taken during free fall and landing, and all the necessary information is provided to ensure a safe and fun experience. The instructors are highly qualified and certified, and the equipment used is of high quality and subjected to regular checks.
Where to skydive in tandem in Tuscany?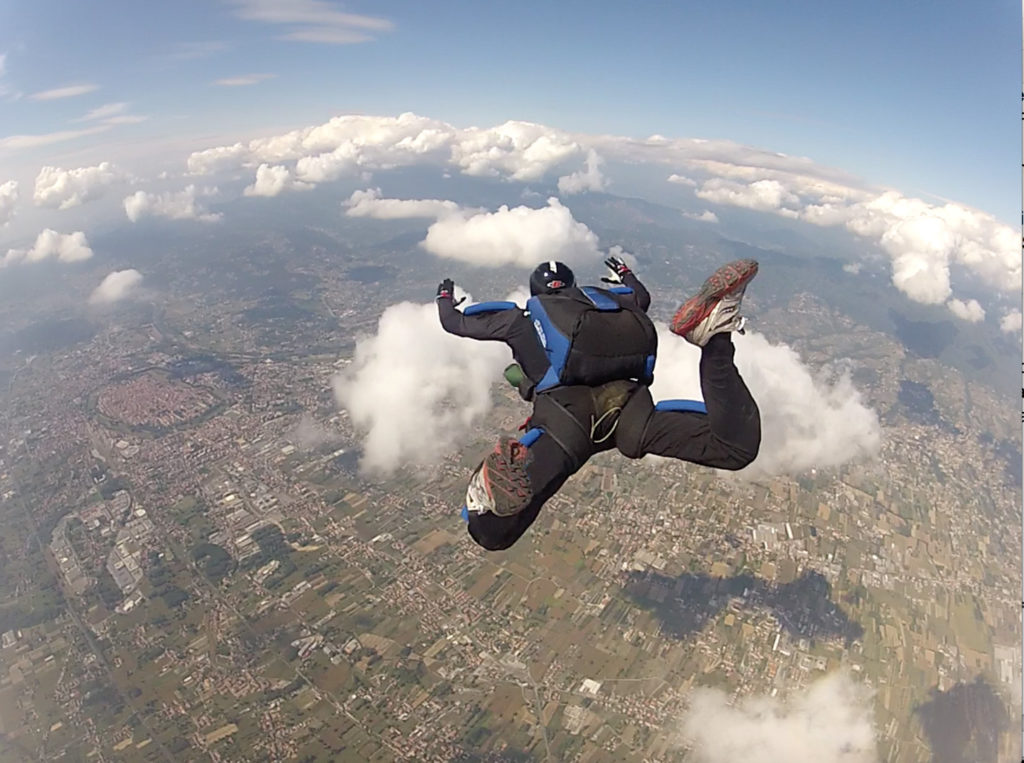 If you are looking for an adrenaline adventure in Tuscany, look no further! Get ready to experience the thrill of a lifetime with these four extraordinary locations for your tandem launch.
1. Skydiving School Lucca
Address: Aeroporto Lucca-Tassignano, Via C. L. M. Carrara (ex Via dei Paracadutisti) Loc. Tassignano, 55012 – Capannori
This school has been open since 1999, and its launches offer breathtaking views of the walls of Lucca, the sea, the Apuan Alps, the Apennine mountains, Versilia, Pisa, Livorno and even Corsica!
2. Skydive Silver Coast
Address: Strada provinciale Parrina - 58015 Orbetello (GR)
Website:
Other crazy views for the Skydive Costa d'Argento: the launches take place in the splendid setting of Monte Argentario, where you can admire the beauty of its lagoon and its beaches, in Orbetello.
3. Parachuting School Etruria
Address: 52100 Arezzo - Aeroporto - Via F. Baracca, snc
Website:
A school located in the heart of Tuscany, allowing you to admire all the beauty of the hinterland.
4. The Zoo skydive
Address: Aviosuperficie Alvaro Leonardi – Via Gianni Caproni 4, 05100, Terni
Website:
Here we leave the region to admire the beauty of Terni and the surrounding region. Views that will leave their mark.
So grab your gear and get ready to dive into the excitement: these incredible locations are waiting for you.
Each of these places offers a unique experience, with breathtaking views and a group of expert instructors ready to guide you on this adventure.
Tandem skydiving in Tuscany is an adrenaline and unforgettable experience. Whether you are an extreme sports enthusiast or simply looking for a unique experience to tell, tandem skydiving in Tuscany is an option you should seriously consider. Not only will you have the opportunity to fly in the sky, but you will also be able to admire some of the most beautiful views in Italy.
Image sources: skydivecostadargentoit, paracadutismolucca