Picture this: after months and months of waiting to come back for a visit, you're finally in Florence. You've spent the morning browsing the stalls of the Mercato di San Lorenzo, checking out leather bags and belts, and you've got tickets to climb the Cupola in the afternoon. Now you're hungry but don't feel like sitting down for a full meal, you had a huge dinner at your favorite trattoria yesterday, and right now you want something quick and easy.
You've heard about that one sandwich shop with a jaw-dropping number of reviews online, but couldn't be bothered with standing in such a long queue, and you've got a sense that, by now, it's probably just hype anyway. You've also heard about the traditional lampredottai and trippai serving all sorts of cow-innards panini, but don't feel quite ready to stomach that.
But have you ever heard about Semel?
is a tiny sandwich shop across the street from the Sant'Ambrogio food market, just big enough to fit a couple of stools, two clients at a time (three when it's packed!), a glass and wood counter filled with all sorts of goodies, soft-spoken Niccolò assembling panini, plus Marco and his big personality, taking your orders and ordering you a plastic cup of red wine.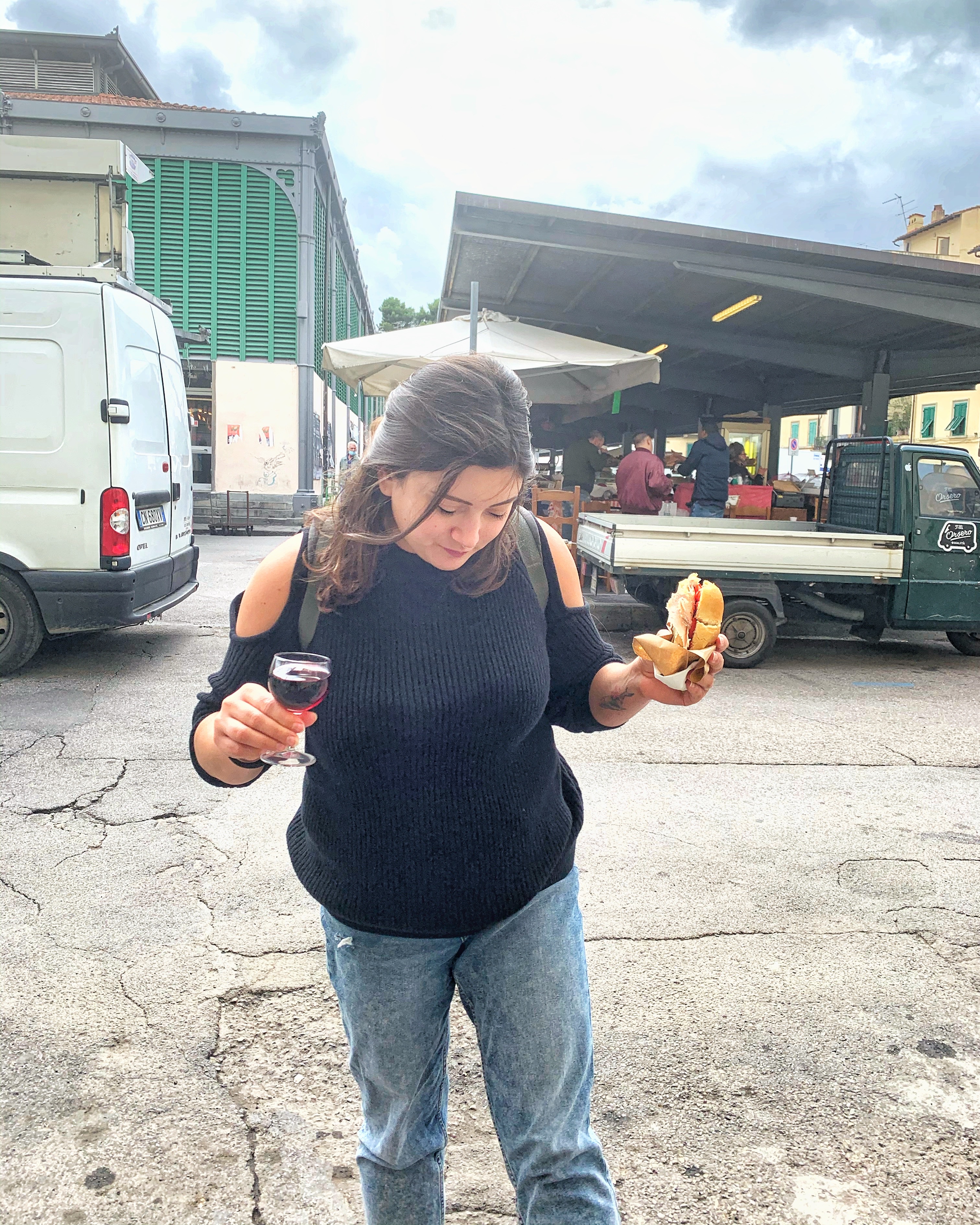 A "" is a soft, round bun with a delightfully crunchy crust, a traditional Tuscan bread that was on the verge of being forgotten before Marco opened his shop.
The fillings are what make these panini so special. You'll never find the repetitive "salumi + cheese" combo here, but instead their amazing, homey stews and exquisitely assembled local artisanal products, carefully selected by Marco thanks to years of experience in the restaurant business.
The menu changes daily based on availability and on Marco's mood, but some of my favorites are:
cheese, pear and truffle;
mussel and mushroom stew;
roast pork, tomato and hot sauce;
Parmesan-style cod (on Tuesdays);
anchovies with raw fennel and blood orange;
donkey (yes, I said "donkey") and artichoke stew (on Thursdays and Fridays);
Canapone: sun-dried tomatoes, ricotta cheese, nutmeg and bacon that turns crispy and curly as Niccolò blasts it with his culinary butane torch with one hand, as he holds back his tie with the other. Had I mentioned that they wear a shirt and tie and a pretty silver pin?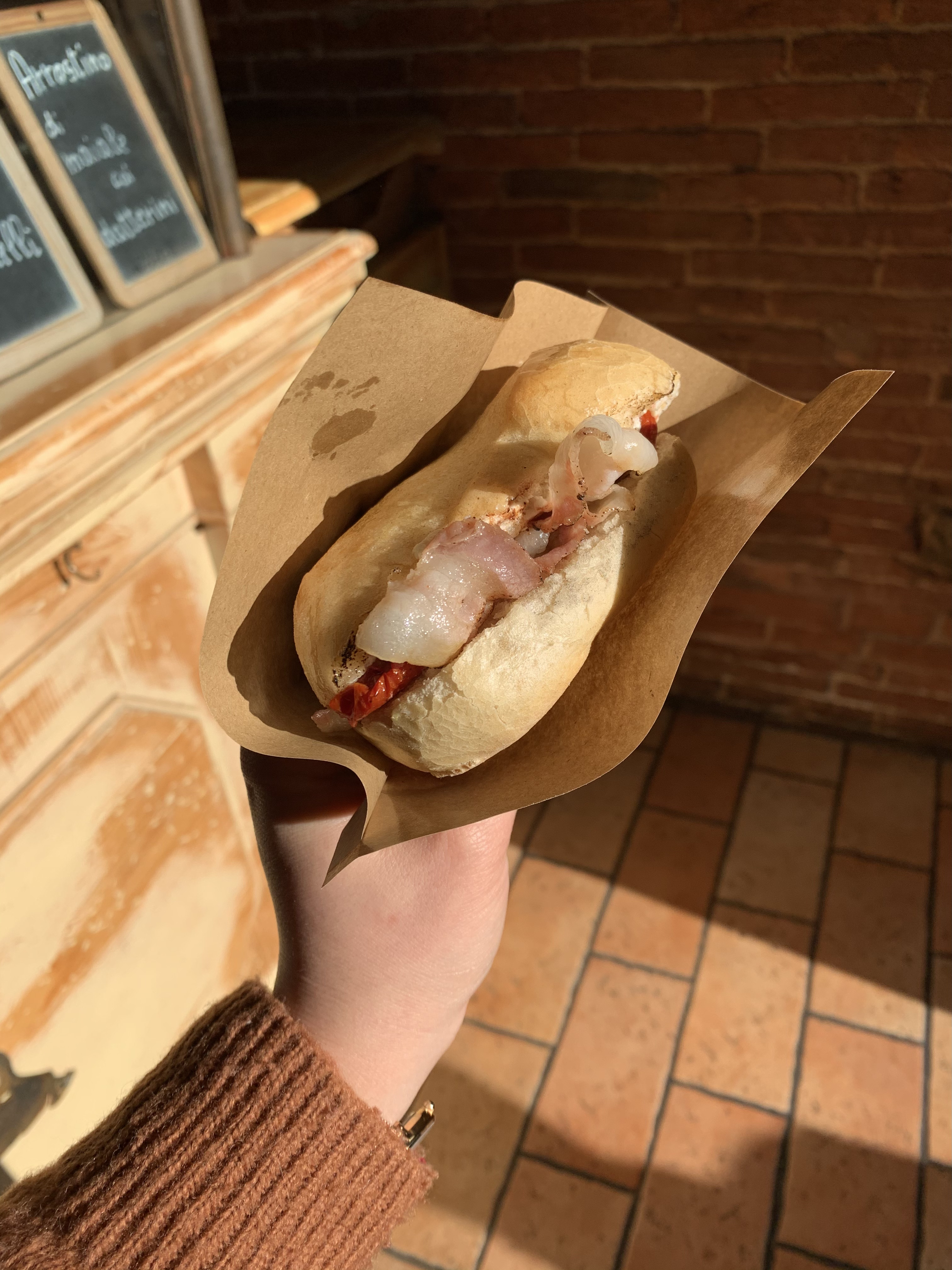 Legend has it that Marco occasionally makes snail stew but I've never had the pleasure.
Pro-tip: grab a stool as soon as you find a free one and eat your panino in a corner, in silence, as you enjoy the flow of human beings coming and going through Semel's door.
Most of Semel's clientele is locals, doctors and lawyers and people that work the stalls at the market, so it's only open 11:30am-2:30pm, Monday-Saturday.
Address: Piazza Lorenzo Ghiberti, 44/r, 50122 Firenze.
Martina Bartolozzi
@MementoMartina
Martina is an Italian-American travel blogger born and raised in Florence. He spends most of his time traveling and exploring Italy and the world, eating delicious foods and posting videos that make you hungry.
image sources: Cover Visit Florence, photos in the text Martina Bartolozzi