As he likes to say first, Dario Cecchini is not a chef, but a butcher, because he does a simple thing, linked to tradition, but (as we will say several times) in part he deviates from it.
So, simple so to speak.
For how he lays the knife with surgical precision and maximum respect for the creature in front of him, Cecchini is now for everyone the man who whispers to the flesh, also for his concept of holistic processing "from nose to tail".
A butcher-poet, a shrewd and affable person, famous all over the world; according to the NEW YORK TIMES "The most famous butcher in the world", ambassador of Tuscany to the nth degree, and from now, also of IT'S Tuscany.
You can find this and much more in our interview...
Family tradition
Born in 1955, in the house across the street where his father was a butcher in Panzano; She often recounts how her grandmother was her main source of inspiration: "Most of my taste-related memories come from her," sheexplains. "She was a great cook and it was thanks to her that I still use all the cuts of meat today, not just the steak. We didn't waste anything."
The young Dario grew up knowing that he would most likely have to become a butcher of the country: from a young age, however, he matured in him a restlessness with respect to this paternal desire, so much so that, years later, he enrolled at the veterinary university in Pisa.
Because the animals did not want to see them dead, he wanted to cure them.
Then, in 1976, after three years of study, came a sad news that would turn his life upside down forever: his father was dying. With his mother already missing, Cecchini was supposed to take over the leadership of the family and provide for her livelihood.
Since his studies were still far from over, and the family had a butcher shop to carry on, he took the place of his father, but his hand was far from being delicate or precise. On the other hand, he had never felt great interest in what his father had tried to pass on and his personal life project was anything but.
It was the same father, however, who directed him, before dying, towards the right person, the Master who over the years taught him the trade.
A profession from which he learned a lot and that over time he has been able to enhance, often putting his face on it: a character Dario Cecchini, who like many Tuscans, either hates or loves himself, in front of whom you can not remain indifferent.
The ethics of the flesh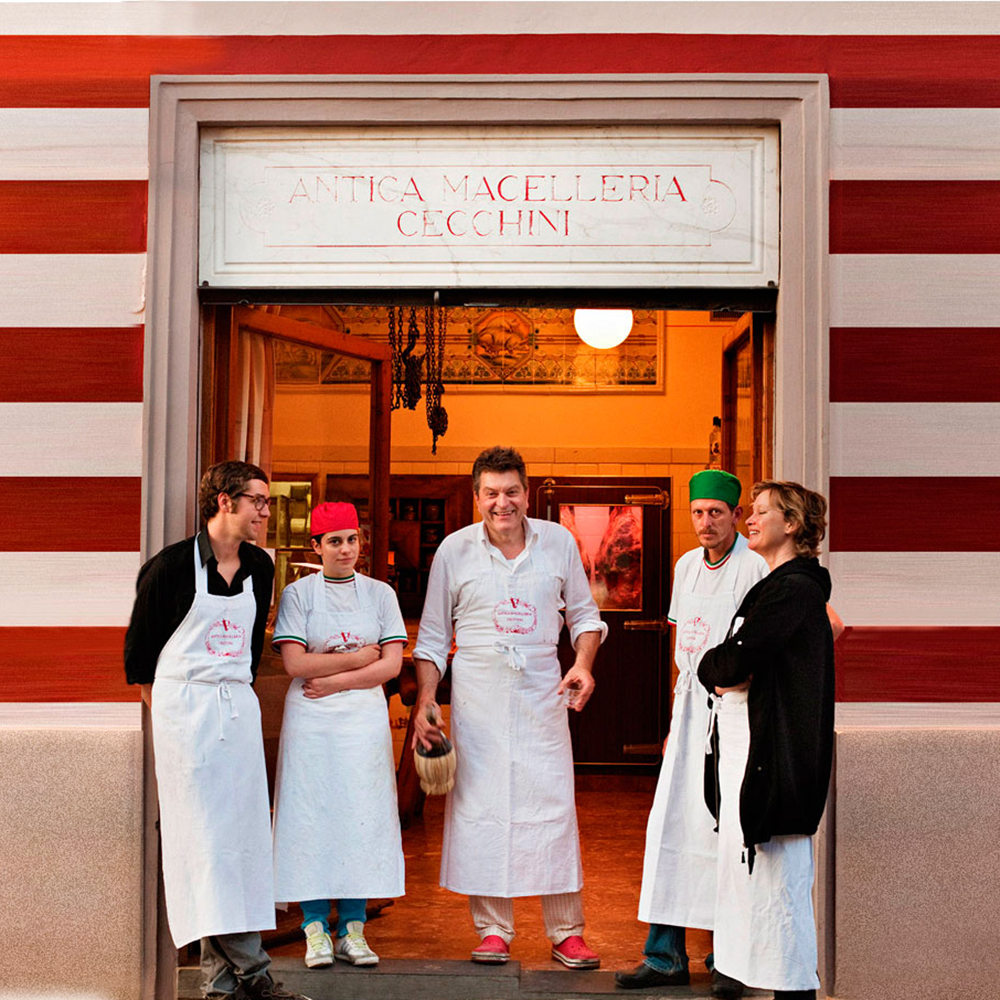 In his workshop, the open for over 250 years, Cecchini is almost always behind the counter joking with customers, while recommending cooking methods and sharing recipes that sometimes date back to the Renaissance.
Cecchini has a contemporary vision of eating and makes it clear, with his work, to know and share the many current ethical problems on the consumption of meat: in this sense he has often reiterated his deontology and his thought on the subject:"The most difficult thing to explain to people is that (...) the fillet is not the best part of the cow (...)
Everyone thinks that fillet is better than stew, better than anything. But this is not true. Everything can be yummy, if well prepared and cooked."
To beef or not to beef, that is the question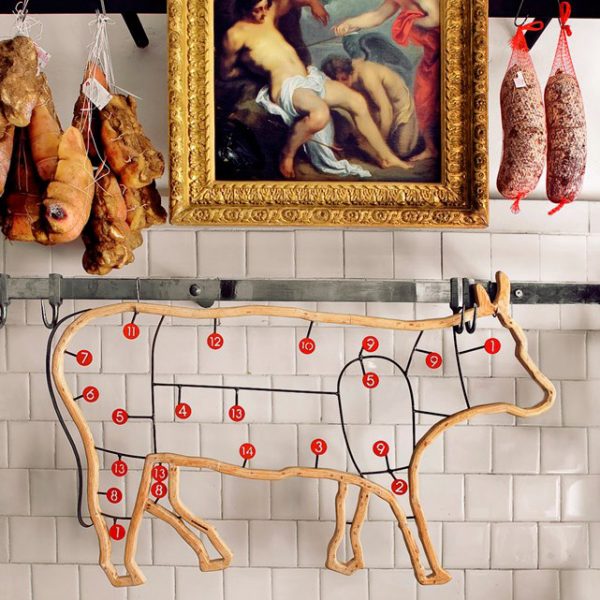 "Mostpeople see meat as a pyramid: the best cuts at the top, the less important ones at the bottom. In my opinion ... they are all equally good if prepared well. We are therefore not faced with a pyramid, but with a circle."
"Iam convinced that the butcher has a responsibility towards his meat and that this starts first of all from the quality of life of the animals that are slaughtered. To be tasty, they must lead a comfortable life and have lived a long time."
Over time, in addition to the historic butcher's shop, Dario Cecchini has opened more locations for catering, such as the Solociccia and Officina restaurants or his with different souls depending on the expectation of the guest.
Dario Cecchini, with his smile,his sly eyes and his immense knowledge,is a sort of magister of the flesh; what you eat from him are monuments of a tradition, but in the same way, they do not retrace the entire road, choosing a more conscious and contemporary attitude to the world of food.
image sources: dariocecchini.it, firenze made in tuscany