The antique markets, large and small, are almost everywhere in Tuscany. On the streets of Florence you can come across one practically every weekend, in Lucca the Antiques Market occupies the historic center every third weekend of the month and impossible not to mention that of Arezzo, every first weekend of the month.
What can you find at an antiques market?
So many unusual things that elsewhere are impossible to recover: shoes, clothes, toys, jewelry, furniture, all at least vintage - they are really a great opportunity to find objects that you could not find anywhere else.
The difference between vintage and antiques
Often you will have wondered; well the answer is this.
Each object obviously belongs to a certain historical moment, or in any case owes its birth. A vintage object can also be considered as an antique, but only if it is over 75 years old.
In the markets that we propose in this post, you will find both antiques and vintage.
Antiques Fair Arezzo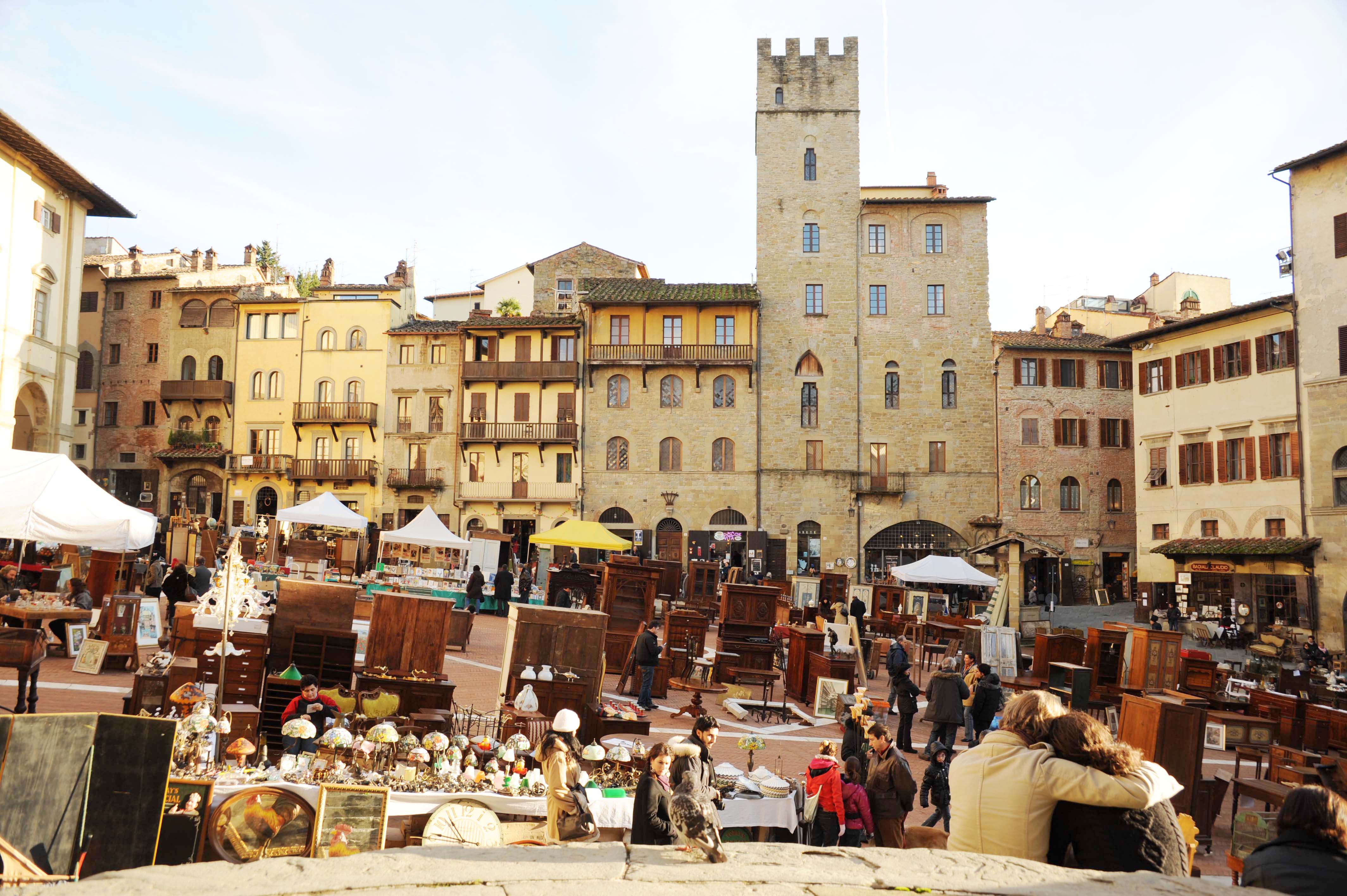 with its Roman ruins, medieval walls, Renaissance architecture and the unparalleled works of Piero della Francesca, has always been a magnet for art lovers.
Since 1968, every first Sunday of the month and the previous Saturday, in the streets of the historic city center hundreds of exhibitors offer their objects giving, to the many enthusiasts, the pleasure of discovering a unique and rare piece that is antique, modern or vintage.
Lucca Antiques Market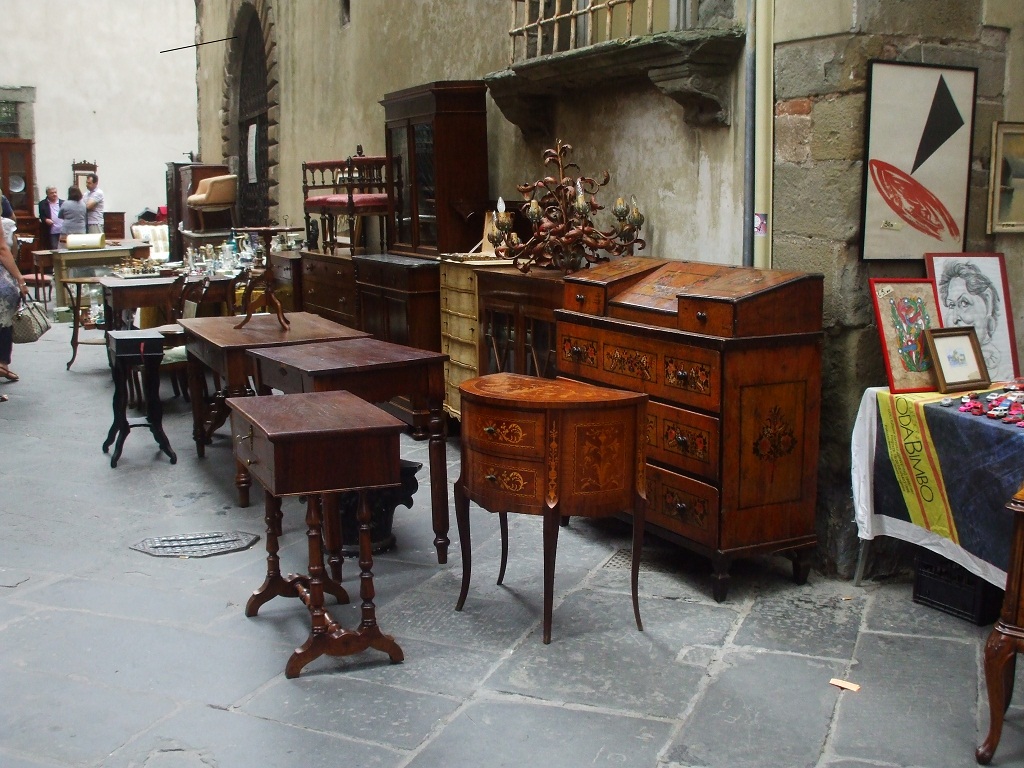 On the third Sunday of the month and the previous Saturday, is populated by exhibitors and numerous curious, Lucca and not: the antiques market of Lucca looks like a labyrinth to explore, among the beautiful and elegant squares of the city.
The surrounding area is full of grandiose and elegant villas and this market lives a bit of the same atmosphere... persuasive and beautiful, it is not on the quantity that it has made its fame, but on the quality of what is presented: sheets and centerpieces with monograms, old games and refined crystal chandeliers, wonderful golden mirrors and garden statues.
Santo Spirito Market in Florence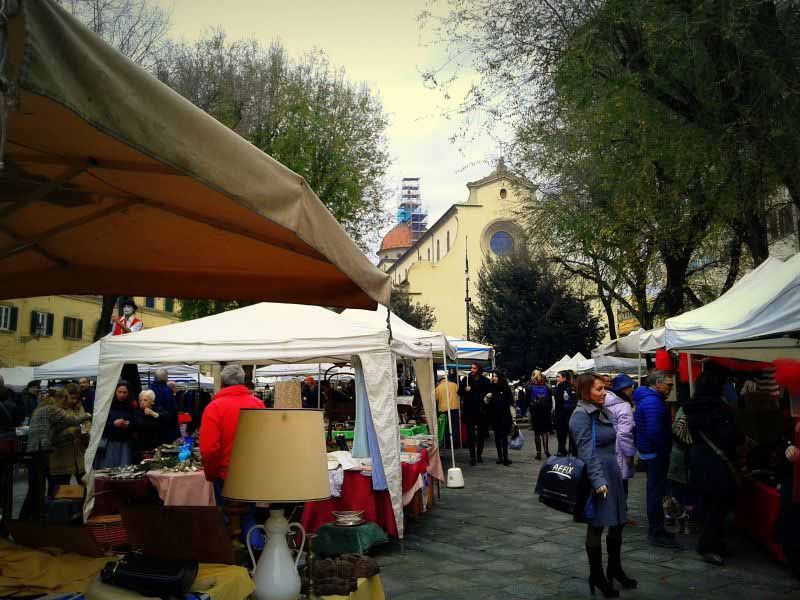 Located in a much loved square, the Santo Spirito market in Florence is an extraordinary place to spend a particular and bohemian Sunday looking for quality vintage garments, collectibles and carefully chosen handicrafts and... many other beautiful objects; all while fully experiencing this day in one of the most Florentine squares ever. The market takes place on the second Sunday of the month, from morning until sunset.
From the eighties onwards the antique markets in Tuscany have become a real must for those looking for a special piece of furniture, a chair that evokes distant memories, a lampshade that knows how to fit perfectly into a house with a contemporary character, a blazer with important materials nowadays super fashionable.
Going there, you give yourself an opportunity to enjoy a few hours of shopping by combining it with a cultural visit, thanks to the locations where they take place, so immersed in our Tuscan tradition.
image sources: il mio te, lucca live, wikipedia, il reporter